Fans left worried as latest episode fails to appear on BBC iPlayer
EastEnders fans were left in a panic when the show's latest episode did not appear on BBC iPlayer as expected. The episode, which usually streams on the platform at 6am before its nightly airing on BBC One at 7:30pm, was noticeably absent this morning.
Typically, when an episode is pulled from iPlayer, it is to prevent spoilers and keep surprises for the live broadcast. This happened previously when Cindy Beale made her return to the show. However, it has been confirmed that this is not the case today.
A BBC spokesperson informed Digital Spy that the episode would be uploaded "slightly later than usual." The episode is now available to stream on BBC iPlayer, although the reason for the delay remains unclear.
What to expect in tonight's episode
In tonight's episode, Dean Wicks will be furious when the opening of the new pie and mash shop is disrupted by graffiti. The word "rapist" is branded across the shop, leading Dean to suspect Linda Carter. This accusation sparks a conflict between them, as Linda tries to make peace while Dean refuses to back down.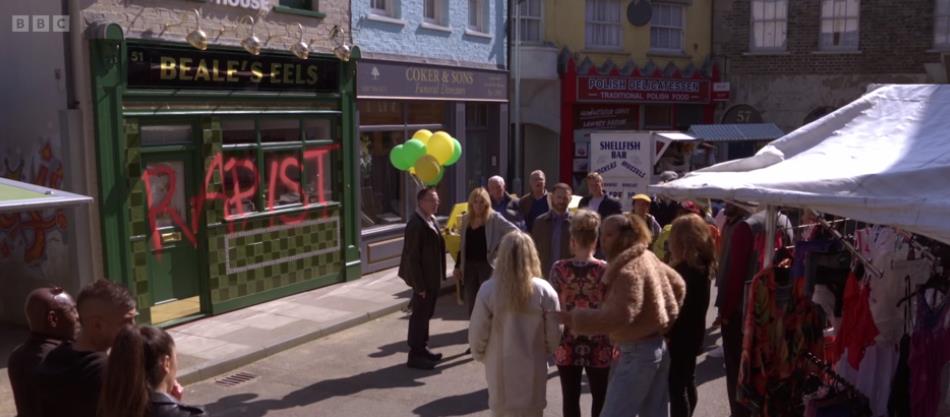 Meanwhile, Nish and Priya find themselves in a steamy encounter, but it may attract more attention than they intended. Vinny grows concerned about his mother, Suki, after discovering she hasn't been taking her medication.
Catch EastEnders on BBC iPlayer and BBC One
You can now watch the latest episode of EastEnders on BBC iPlayer. Don't forget to tune in tonight at 7:30pm on BBC One for the televised airing.


Did you miss our previous article...
https://thecelebreport.com/television/helen-flanagans-mystery-man-revealed-meet-amar-ali-the-bar-boss-from-manchester