CHANNEL 5 are unleashing their latest gripping drama.
The Catch is a psychological thriller with shocking twists to keep viewers hooked.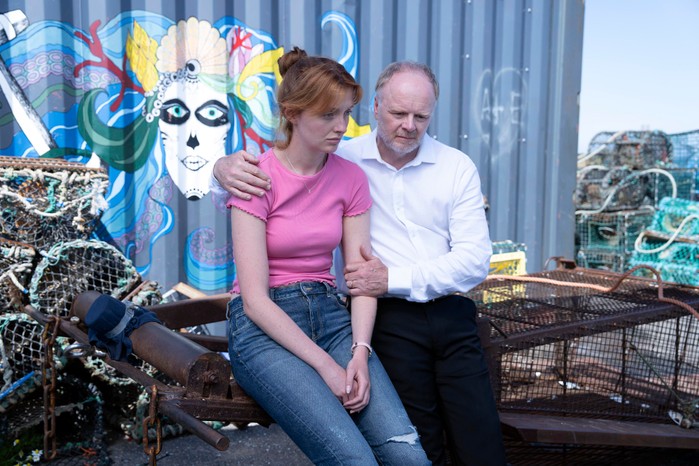 The Catch is a thrilling drama from Channel 5
Is The Catch a true story?
Set against the hauntingly beautiful coastline of the west of England, The Catch introduces us to Ed Collier, a proud husband, father and local fisherman determined to do whatever it takes to keep his family together.
But when a rich, handsome younger man enters daughter, Abbie's, life and threatens to take her away from him, Ed finds his life spiralling out of control.
Secrets and lies are exposed with every twist and turn but will Ed discover the truth about his daughter's new boyfriend before it's too late?   
Despite the gripping nature of The Catch, the series is NOT based on a true story.
Is The Catch based on a book?
The Catch is based on the book of the same name, by TM Logan that was originally published in 2020.
The author'S previous novel The Holiday was also adapted into a drama for Channel 5, which aired in the summer of 2022.
TM Logan was a national newspaper journalist before becoming a bestselling author.
He now writes novels full time, and his thrillers have sold over than two million copies in the UK.
Logan's work has been translated into 22 different languages, and sold around the world. 
The Holiday was a Richard & Judy Book Club pick, spending ten weeks in the Sunday Times paperback Top 10.
Who is in the cast of The Catch?
The Catch brings with it an all-star cast, which is headed up by Line Of Duty star Jason Watkins.
Speaking about the four-part thriller, the actor said: "I've always loved thrillers on screen and The Catch has all the ingredients to keep audiences hooked.
"Three dimensional characters, a family unit under stress, with a tragedy at the heart – all brilliantly framed in the thriller genre."   
The cast line-up includes:
Jason Watkins as Ed Collier – known for A Very English Scandal.
Poppy Gilbert as Abbie Collier – known for for Chloe.
Aneurin Barnard as Ryan Wilson – known for The Pact.
Cathy Belton as Claire Collier – known for Delicious.
Brenda Fricker as Phyllis Doyle – known for Home Alone 2.
How can I watch The Catch?
The Catch starts on Channel 5 tonight (January 25, 2023) at 9pm.
The drama will also be available to watch on My5 with four episodes altogether.
The series will air weekly at the same time.