Love Island Finalist Whitney Adebayo Reveals Surprising Career Choice
Love Island star Whitney Adebayo has made an unexpected career move after turning down six-figure endorsement deals. The 26-year-old, who reached the final of this year's series alongside her boyfriend Lochan Nowacki, has decided to focus on her wig business instead. Whitney's agent revealed in a LinkedIn post that she rejected lucrative offers and opted for a long-term strategy that aligns with her values and uniqueness.
Building a Long-Term Strategy for Success
In an Instagram Story screenshot shared by Whitney, her agent Hannah Holland, CEO of HLD Talent, explained their decision. Rather than accepting a big brand deal, they wanted to carefully choose campaigns that suited Whitney's brand and highlighted her importance in the black community. Whitney's wig business, CC Hair (Candy Corner), will be relaunched with the help of her fellow Love Island contestants in a groundbreaking campaign that focuses on representing the black community.
Whitney expressed her excitement for the campaign, stating that her goal is to bring recognition to the hair industry and challenge traditional beauty standards. She believes that hair is more than just an art form and wants to shed light on its significance in everyday life. The influencer's dedication to her craft is evident in her decision to prioritize her wig business and turn down potentially lucrative opportunities.
CC Hair: Breaking Beauty Standards and Fostering a Supportive Community
Whitney's wig business, CC Hair, offers a wide range of real and synthetic hair products, including wigs, closures, and accessories. The brand aims to help individuals blend their hairline with their skin, creating a seamless and natural look. Whitney started the business while still in university, driven by a desire to challenge flaws in the hair industry and create a supportive community centered around a love for hair.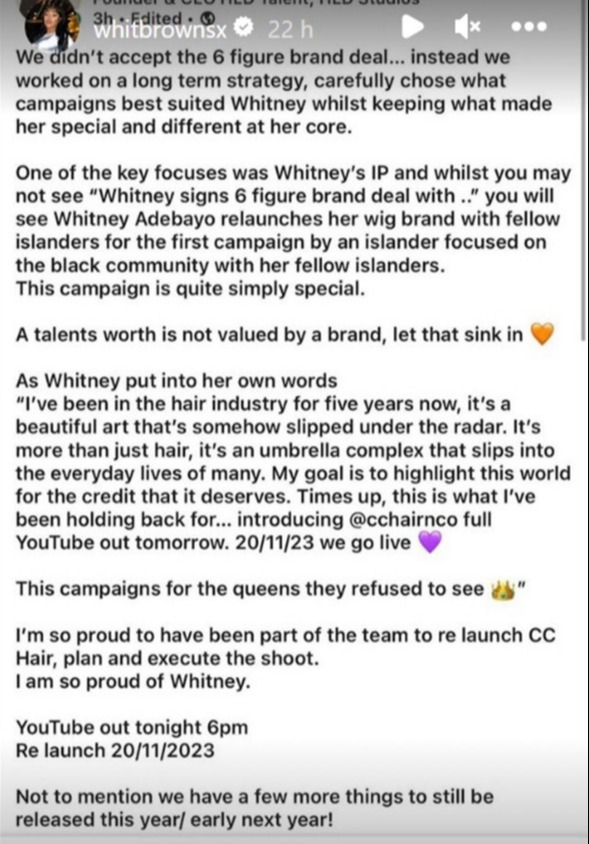 A Promising Future Ahead
Whitney's decision to prioritize her wig business over lucrative endorsements demonstrates her commitment to her craft and values. Her agent hinted at more exciting projects to be released in the coming year, indicating that Whitney's journey is far from over. As she continues to make waves in the hair industry, Whitney Adebayo is a trailblazer who refuses to conform to traditional standards of success.


Did you miss our previous article...
https://thecelebreport.com/television/big-brother-uk-series-14-where-are-they-now